Only Let the BEST Doctor Perform Your Dental Implants!
Dr. Graboviy
America's Top Dentist Award 2019-07
Master at the International Congress of Oral Implantology
International Health Professional of the Year
topDentist Award (voted by his peers)
Now that you know you've come to the right place for your dental implants. Let's help you decide if dental implants are right for you.
Step 1 - Are Dental Implants a Good Choice for Me?
Ask yourself these questions:
Do I want to replace one or more teeth?
Do I want to provide support for a partial denture?
Do I want to increase the support and stability of full upper or lower denture?
Do I want to enhance chewing comfort and correct my bite?
Do I want to prevent oral bone loss?
Do I want to improve my esthetic appearance?
If you answered yes to any of these questions:
Schedule a FREE Consultation
Step 2 - Risk of NOT Replacing Missing Teeth
Your jaw bone begins to dissolve in the area where the tooth is missing
This can alter the shape of your jaw-line and face
If unaddressed, the bone disintegrates until it becomes difficult to eat certain foods
Your remaining teeth begin to tilt and drift into the gaps caused by the missing tooth
Food and bacteria become trapped in these spaces
TMJ problems may arise because of jaw-line bite offsets
Step 3 - the Difference Dental Implants Make



Step 4 - What are the Costs?
Each implant case is unique so each treatment cost is unique. However, our office offers numerous financial options to enable you to afford implants. Take a look below.
Dental Implants Made Affordable
Our office offers financing for dental implants through CareCredit
We also accept most insurances
Additionally, we offer upfront payment discounts and 25% off all dental procedures when you are a member of our Comprehensive Dental Plan
To Determine Your Cost:
Schedule a FREE Consultation
Dental Implant Facts
What are Dental Implants?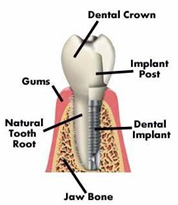 Dental implants are natural-looking replacements for missing teeth
Dental implants also provide the same function as your natural tooth root
A dental implant is a small, sturdy, titanium post that acts as the root structure for a natural tooth
How are Dental Implants Performed?
A dental implant is placed into your upper or lower jaw bone
After the bone has grown around the implant, implants can hold a crown, bridge or over-denture just like roots hold natural teeth in place
Dental Implant Upkeep
Implants are very durable and can last a lifetime
They require the same maintenance as natural teeth; this includes brushing, flossing and regular dental check-ups
Now that You Know More About Dental Implants, Take the Next Step in Getting Them!
Schedule a FREE Consultation
Types of Dental Implants
Single Tooth Replacement
If you are missing a single tooth, one implant and a crown can replace it. A dental implant replaces both the lost natural tooth and its root.

Implant-Supported Bridges
An Implant-supported bridge is a dental prosthesis supported by two or more implants replacing three or more teeth.

Implant-Supported Partials & Dentures
Dental implants provide several advantages over other teeth replacement options. In addition to looking and functioning like natural teeth, implant-supported bridges replace teeth without support from adjacent natural teeth. Other common treatments for the loss of several teeth, such as fixed bridges or removable partial dentures, are dependent on support from adjacent teeth.
Unstable complete dentures can be successfully stabilized with conventional or mini implants. You will not need to use any adhesive any more to stabilize your dentures!

It's Time You Get the Dental Implant You Need!
Schedule a FREE Consultation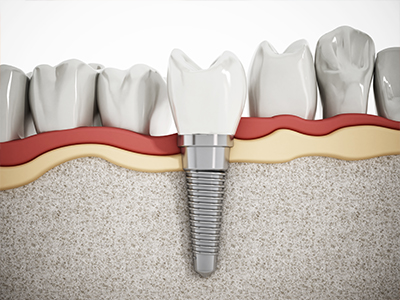 Our Location
2239 Taylorsville Road

Louisville
,
KY
40205
Current Patients: (502) 409-9190
New Patients: (502) 410-2392
Follow Us